What is HyProCure®?
HyProCure® is a minimally invasive, dynamic stabilization device (stent) intended to treat Hyperpronation (Talotarsal Displacement), an excessive inward rotation of the foot that occurs when the talus (ankle bone) and the calcaneus (heel bone) slip out of alignment.
What Are Symptoms of Misaligned Feet?
HyProCure® relieves, and can even prevent, a variety of seemingly unrelated foot and body conditions by correcting a commonly unknown problem—misaligned feet. When your feet are misaligned, it leads to a chain reaction of misalignment in the body, affecting the knees, hips and back, often resulting in pain when standing, walking and running. The most common sign of misaligned feet is the inward rolling of the ankles, which is called Hyperpronation. However, misaligned feet can lead to a variety of other symptoms including, flat feet, foot pain, back pain, knee pain, hip pain, bunions and hammertoe. For more information on symptoms of misaligned feet and to find out if you are a candidate call our office!
What exactly is Misaligned Feet?
Misaligned feet are the result of the ankle bone sliding off of the heel bone causing the small, naturally-occurring space in between (called the sinus tarsi) to collapse. When you stand on feet that are misaligned, it causes a chain reaction of misalignment through the body. Your body is then forced to compensate by putting excessive strain on your ankles, knees, hips, and back.
What is Atlas Foot Alignment Institute?
Atlas doctors are trained in offering the best possible medical solution for misaligned feet (HyProCure) while also offering the best patient experience to everyone who walks through their door. They focus exclusively on feet! Whether it's fixing an ingrown toenail or multiple concerns the specialists at Atlas Centers offer patients a world class level of expertise and care. The AtlasFAI treatment model revolves around the patient. With a highly trained team, precise imaging equipment, facilities and helpful Treatment Coordinators – all together in the same center – we're uniquely equipped to make treating foot concerns the best possible experience it can be for our patients.
Why Choose HyProCure?
HyProCure works differently than other treatment options, which is what makes it so effective. It is placed into a naturally-occurring space in between the ankle bone and heel bone through a small incision below the outer ankle bone. There are no pins, screws or drills required.
Unlike other stents that block your range of motion, HyProCure stabilizes the foot and restores natural joint motion. You are able to move your foot freely so that you can easily perform day- to-day activities. Since the procedure is minimally invasive, patients are typically back into their "normal" shoes within a few weeks, if not sooner.
Quick Facts:
FDA cleared since 2004, HyProCure is an evidence-based procedure that has been used by foot & ankle surgeons in over 70 countries in thousands of pediatric and adult's individuals of all activity levels.
Since HyProCure is made of titanium, it will not set off metal-detectors and recipients can still undergo MRI or CT scans.
Most patients are able to walk again within a few days after the procedure is performed.
Allows immediate weight bearing
Published success rate of 94%
Frequently Asked Questions:
Q: Is there drilling or screwing involved in the EOTTS-HyProCure® procedure?
A: There is no drilling or screwing involved with the HyProCure® procedure. A small incision is made in the skin above the sinus tarsi and the stent is inserted into the natural space in the foot. The threads on the stent allow scar tissue to form around the groves and lock the device in place during the healing process.

Q: What are the chances of having an allergic reaction to the HyProCure® stent?
A: Titanium is the choice material used in the body since it is the least reactive. HyProCure® is made entirely of medical grade titanium.

Q: Will I feel HyProCure® in my foot?
A: As long as the implant does not displace, you should not be able to feel HyProCure® after the procedure. Sometimes for the first few months a hard substance may be felt in that area of the surgery. This is scar tissue and should dissipate after several months, if present at all.
Q: After the EOTTS with HyProCure® procedure, will I need to be pre-medicated prior to dental treatment or other future surgical procedures?
A: The HyProCure® stent is not embedded into the bone, so you should not need to be pre-mediate prior to dental or other surgical procedures, unless there are pre-existing reasons. Check with your health care provider.

Q: Are there any limitations after this procedure?
A: Once the tissues surrounding the stent are healed, there should be no limitations.

Q: What happens if I choose to forgo treatment?
A: Think of your body as a structure; your feet are the foundation. If the misalignment in your feet is left untreated, it forces the rest of your body to compensate by putting excessive strain on the heels, ankles, knees, hips and back. This causes progressive pain in the body, which can lead to a variety of seemingly unrelated symptoms. Symptoms that are related to the misaligned feet only become worse the longer they are ignored. So for example, if you are experiencing soreness in your knees, hips and back, it will only become more intensified as you age, regardless of any other corrective actions you take. It can also worsen serious health conditions such as diabetes and obesity.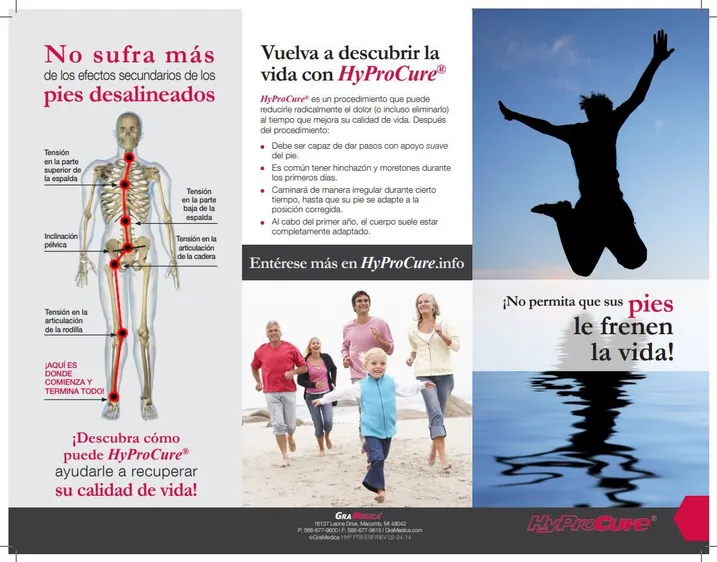 If you are tired of your flat feet and a variety of related body aches, then consider HyProCure® flat feet surgery from podiatrist Dr. Richard S. Mendelsohn in the McLean, VA and surrounding areas. Make an appointment online or by phone with Family Foot and Ankle Centers for a one-on-one consultation.